Graciela Lopez, Founder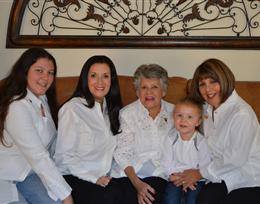 Graciela Lopez also known as Nana founded Angel Heart Pajama Project in 2013 as a way for her to Pay It Forward. As an immigrant from Cuba, Nana feels blessed by the kindness of total strangers, the Catholic Social Services, and the opportunities that have been given to her and her family when they arrived in the United States. Nana at 85 years old is very active in preparing and collecting pajamas and attending all the events where she can be part of the gifting.
I know my daughter's will carry my Mission and Vision for a long time. My wish is touch one child at a time with a new book and a new pair of pajamas."
Maria Patterson, Co-Founder
Having 36 years of experience working in the field of education her experiences range from Early Childhood Teacher, Reading Teacher, Bilingual Education Director, Title I Resource teacher, Elementary and Middle School Principal, and Principal Supervisor and Evaluator for 45 school principals at the elementary through high school level. Her background has provided her with the ability to work with the underserved children and families in the Tucson area. She has been an Adjunct Professor at Pima Community College and Chapman University, teaching courses in Early Childhood, Reading and English as a Second Language. She holds a bachelor's degree in Elementary Education and a master's in Bilingual Education. Maria is a member of the Kino Rotary Club of Tucson and a volunteer with Horse Tales Literacy Project.
As a co-founder I bring to the Angel Heart Pajama Project my skills and expertise in advocating for children in need. I am committed to the Mission and Vision of Angel Heart Pajama Project. I have extensive experience in working with people and various organizations. I am a leader and a follower. Making a difference in children's lives in our community has been my motto."
Marty Croissant – Co-Founder
My motivation to become the co-founder of Angel Heart Pajama Project stems from my own childhood experiences and my work in Non Profit.
In 1963 my family fled to Miami, Florida as a result of the Cuban Revolution. Shortly after we arrived in the United States, we moved to Chicago to pursue the American Dream. One of my fondest memories growing up in Cuba, where things were scarce, was our mother giving us warm pajamas at Christmas. Our mom continues this tradition of giving us new pajamas for Christmas. Funny, thing about traditions they continue to be carried down from generations to generations.
I have had the privilege to meet many wealthy and inspiring people throughout my career, who really care about the less fortunate by either helping with money or by engaging directly in various charity projects. I always admired them, but I never thought that I could establish my own foundation. With the support of, my mother as our founder, my sister Maria and my husband for moral support we started Angel Heart Pajama Project.
Angel Heart Pajama Project's mission is to provide pajamas and books to children in need. Most of these children lack the feeling of getting into bed in a pair of warm pajamas and a bedtime story. They come to foster homes and shelters with just the clothing they are wearing.
I experience every day that helping others is what fills the gap. It is also a great opportunity to give something back to society and to say "thank you" for the very privileged life I have been able to live so far.
Helping children is my passion and my heart."